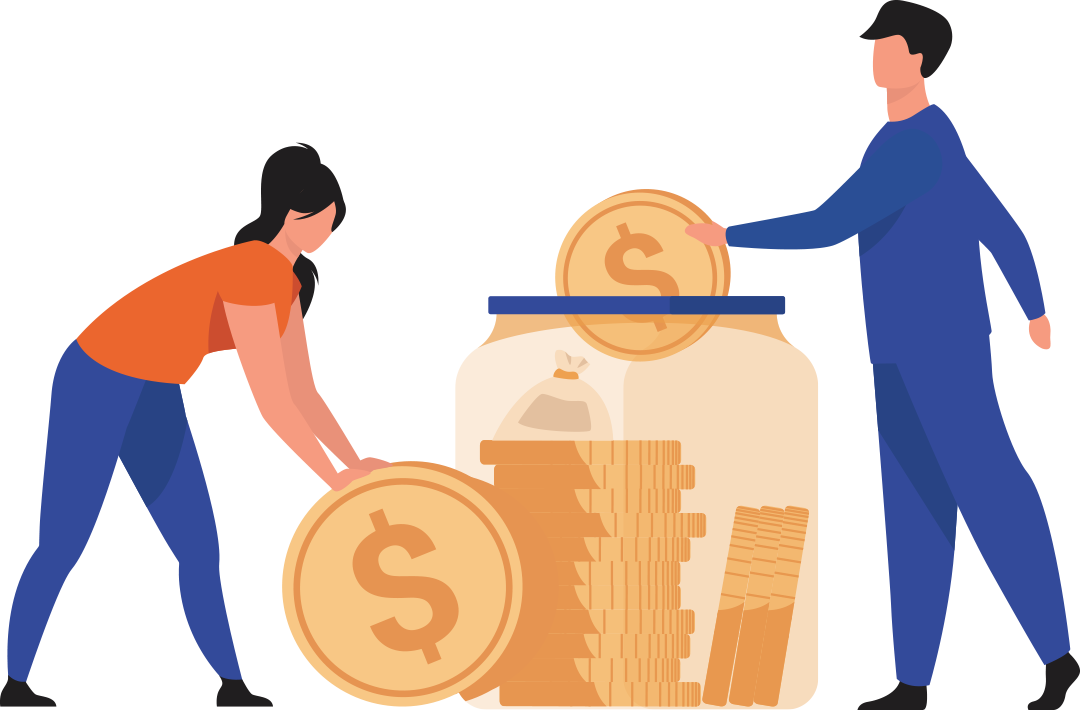 East Brisbane couple cuts taxable income by $50k/year using simple super strategy
The client
Bruce (41) and Patty (40) are successful business owners in East Brisbane. Their business had really taken off over the past couple of years and they now managed 15 staff and had a turnover of over $1M. Despite being well educated professionals, Bruce and Patty had complicated financial structures in place, and were worried that they were simply too busy to take proper care of their own finances while running their business. Their previous financial advisor hadn't been seen or heard from in seven years, and they wanted a fresh approach to making sure they were on track.
They have income of $120K and $150K. They had a superannuation account that was set up from an adviser a long time ago and they haven't heard from him in over 7 years and they felt they were getting no value and were simply too busy to look at their own personal finances whilst managing the business. They are both highly educated professionals but feel finance is best outsourced to an adviser they can trust.
The strategy:
Bruce and Patty had complicated structures set up, with trusts and companies that were frustrating to manage, making them feel like their finances were out of control and perplexing. So our first task was to help them get a clear picture of the structures they had, examine the assets within, and provide them an overall view on their assets, liabilities and net position.
When they approached us for advice, they had a combined income of $270k/year that they drew from the business, which had them both paying a lot of tax, even as employees of their own business. We engaged a carry forward rule to boost their super which they had neglected in the business start-up phase and we were able to reduce their taxable incomes each by approximately $25,000 each which equates to a rough saving of $8,500 each in tax savings.
We kept their current super policies and simply became advisers on their own accounts so they didn't need to change payments or anything from their end. However we updated their super investments to remove the underperforming investments and reduce the costs on their accounts. This saved them approximately $2,000/year in costs.
We reviewed their insurance portfolios that their old adviser set up and we were able to save around $2,000/year in costs on their insurance portfolio; we also removed exclusions and updates their insurances so that they were efficiently in line with their needs and not paying for unnecessary insurance.
The outcome:
Raeburn now helps keep an eye on Bruce and Patty's overall finances, so they can focus on running and growing their business, knowing that they are building on a solid financial foundation.
Note: Client names have been changed for confidentiality reasons but case study is otherwise accurate and true.
What our clients say about us
At Raeburn Advisors we pride ourselves on offering simple, jargon free financial advice. Our clients seem to like what we do, some were even happy to tell the whole world about us!
Rachael – Skyrocket customer
Raeburn Advisors provide practical and easy to understand strategies for building a financial plan. We've learnt a lot and feel confident in the plan we have and achieving our goals. Raeburn Advisors really demystify financial planning into a plan that is attainable.
Rachael M.
Kerry – Skyrocket customer
We have been dealing with Ross from Raeburn Advisors for years and have found him to be extremely helpful. We have discussed our goals and he has shown us how to get there and given us simple, actionable advice to ensure we do. He is extremely personable and we would have no hesitation in recommending Ross to anyone to assist in anything financial.
Kerry T.
Ross from Raeburn Advisors has recently assisted me with bringing my finances into alignment with my future financial goals. His super friendly & tailored approach has made the process very easy to understand and his prompt response and follow up have been a breath of fresh air. Ross is definitely NOT the typical financial advisor!
Ria C.
Janice – Approach customer
Since putting our finances in Ross's hands, our portfolio performs far better than previously! I cannot speak more highly of him - he has been ethical, trustworthy & extremely honest. As a retired, older couple, I'm always impressed by the way Ross goes above and beyond the call of duty including giving his time to help reassure us during these turbulent times.
Janice S.
Alan – Skyrocket customer
From the very start Ross has provided me with the very highest quality of advice; having reorganized my already well-performing superannuation portfolio into one that is very effectively riding out the current difficult times. Ross is a highly effective and trustworthy Financial Advisor and one that I have recommended to family, friends and colleagues. Certainly the best Advisor I have ever had.
Alan C.